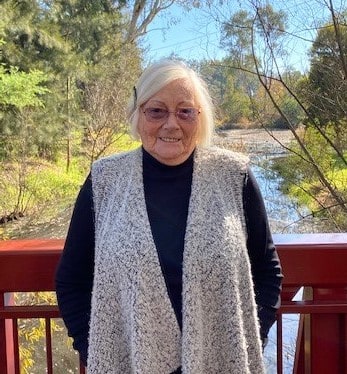 Connie Luff learnt self-reliance over a lifetime on the farm so felt foolish in front of the ambulance officers. Says Connie, "normally I can handle these things". They only left when Connie promised she would call again if she felt worse.
On waking up that morning, Connie had felt pins and needles very lightly throughout her body and an had an unusual feeling. Living independently at 86, Connie had been recovering from an allergy so thought it was related to the hives. Over the phone, ambulance officers had advised blood thinners and by the time they arrived she felt well enough to send them on their way back to Gundagai hospital just around the corner.
She followed her routine, made her bed and had a lie-down - which turned into a two-hour nap. Just as well her phone was still nearby. When she woke, she knew she was in trouble.
The last memory for Connie was seeing the opening of the back doors of the ambulance at the hospital at around 1pm. Nurse Lyn Schubert was concerned. Two ambulance call outs over a period of a few hours indicated something potentially serious.
Despite not remembering, Connie presented as alert and even walked from ambulance trolley to emergency bed. In this small community, Lyn knew of Connie. "She's an independent country lady who has lived most of her life on a farm and only came to town in recent years".
After being connected to monitors, Connie told Lyn she did not feel well then went very pale and convulsed prior to cardiac arrest. Lyn couldn't feel a pulse and Connie could not be roused. Lyn hit the emergency buzzer for more help and started chest compressions. Monitors indicated the need for the LifePak 15 defibrillator and the expanded team followed protocols to deliver a shock.
Connie needed only one. Her heart started working again and within a half hour she was alert and able to speak with newly arrived family members. Lyn travelled with Connie to Wagga where a cardiologist was waiting to continue treatment. The Gundagai team had achieved a great result. Connie was able to return to her independent life after surgery.
The Gundagai Multipurpose Service is a 30-bed facility with 12 hospital care beds and 18 residential aged care beds. It provides a 24-hour Accident and Emergency Department. Reliability of medical devices, such as defibrillators, is essential.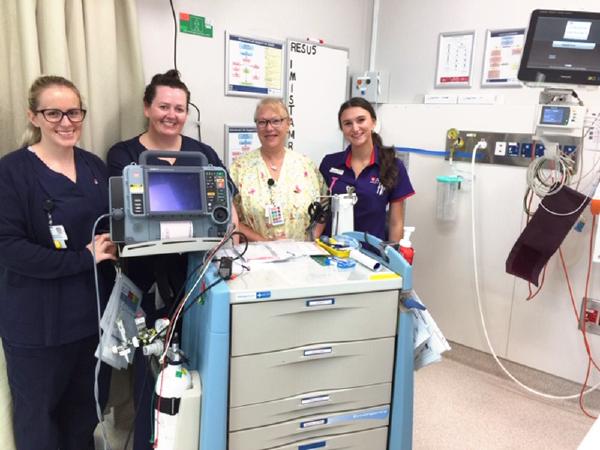 The front-line health care at Gundagai is part of, and is supported by, the Murrumbidgee Local Health District. At Gundagai, the nursing team recall the experience the replacement of their defibrillator as straightforward and seamless. Communications were clear and concise around serial numbers and as it had been identified as a priority facility, a backup defibrillator was sent immediately to manage the risk before a new one was supplied. The outcome was the result of a great deal of collaboration between health agencies and the providers of the defibrillators.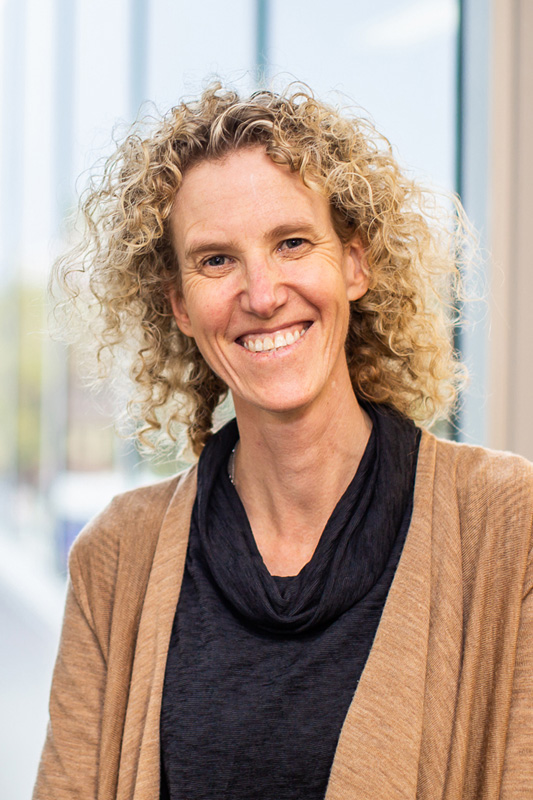 The Murrumbidgee Local Health District manages 33 hospitals within an area of 125,242 square kilometres with many located in small towns. In the case of the LIFEPAK® 15 recall, Jill Reyment Director of Clinical Governance worked with the biomedical team led by Reema Shah, Manager Clinical Technology, Asset Management to locate the devices in facilities across the District.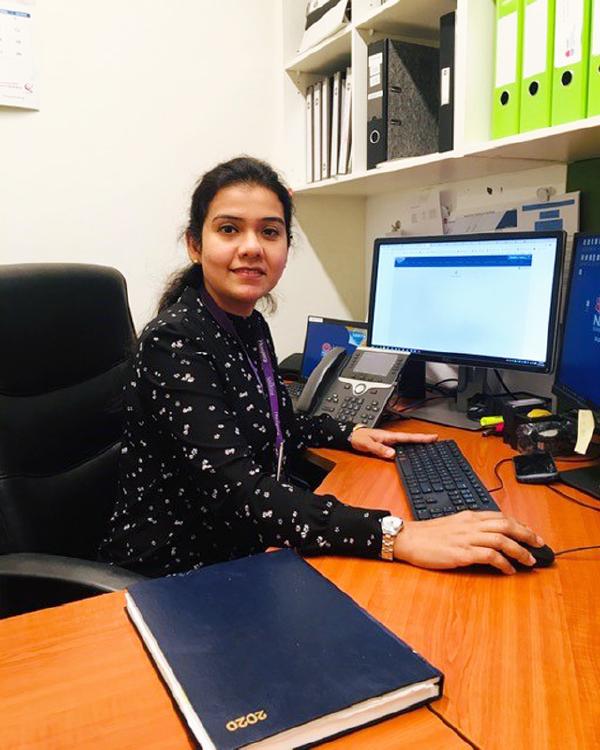 To determine the scope of the recall, including number and location of devices, and the availability of alternative defibrillators, the CEC asked local health districts to complete a survey. At Murrumbidgee, starting with data available in the online asset management system, the biomedical team found devices at 18 sites, which they followed up with physical verification through visits and liaison with product managers. Recognising the urgency of the recall, despite the physical distances and the high number of affected sites, the Murrumbidgee team responded a full and verified inventory of the District's LIFEPAK® 15 devices within 36 hours. Using this data, they could then collaborate with the CEC's Critical Response Unit to determine priority for repair and replacement including identifying the sites of highest need where no other defibrillator was available. Meanwhile, extra defibrillators at sites unaffected by the recall were redeployed to sites relying solely on the LIFEPAK® 15.
This was an urgent matter for us, not every small facility has numerous Lifepaks so we needed to rectify the situation as soon as possible and our people who live and work in those small towns and manage those facilities know the importance of the matter. It was considered an urgent matter that must be managed immediately.
The CEC's Critical Response Unit was formed in 2018 to coordinate solutions to issues arising with medical devices and TGA recalls having a state-wide impact. The unit supports local health districts and specialty health networks with issues that previously they may have managed independently. In 2019, the NSW TGA Recall Coordinator role for medicines, medical devices and biological agents transitioned to the CEC Critical Response team.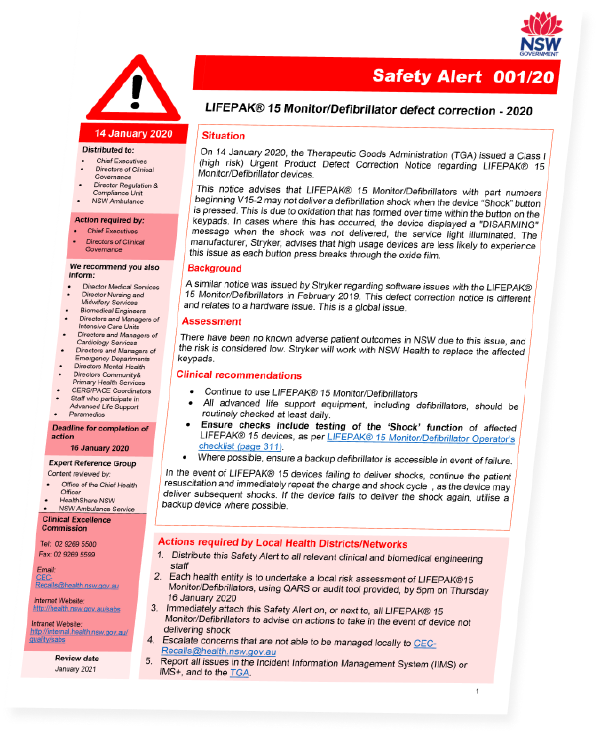 The CEC issued a Safety Alert about LIFEPAK® 15 soon after receiving the Class I Safety Notice from the TGA. An interagency management team meeting was arranged including representatives from the Agency for Clinical Innovation, HealthShare NSW and the Ministry of Health to identify a strategy, scope of the problem and develop solutions to support patient safety. In the rapid response, a survey was created and issued within eight hours using the CEC's online Quality Audit Reporting System (QARS) Survey module. In a measure of the strong relationships between the CEC and districts and networks, all responses were received by the 36-hour deadline which assisted in the assessment and determination of the risk.
Stryker, the Australian sponsor of the American manufactured LIFEPAK® 15 unit, were responsible for implementing the solution. New keypads were ordered from the US and, in collaboration with the CEC and other agencies, a schedule created for repair and replacement including the most effective and COVID- safe travel route around the state for technicians.
A lot of sites did believe they were the highest priority and we had to rely on the data. We created huddles which we had daily, so we had the interagency meeting with the pillars with Ambulance and with the Ministry of Health to be able to identify our high risk areas and then look at what sites to address first.
Danielle Murphy is the Critical Response Lead at the CEC and has worked in NSW health for over 20 years. Danielle has a nursing background with clinical experience in surgical gastroenterology and critical care and has more than 15 years' experience in patient safety roles. She holds a Master of Nursing (Clinical Studies) and, during the year, commenced the CEC's Executive Clinical Leadership Program.
They actually negotiated that all the repairs would be completed within 18 months, so due to the patient safety risk, we actually worked really closely with Stryker to make that time frame as soon as possible and we started in early February 2020 and we actually completed on 15 May 2020.